7 interesting hotel rooms around the world.
It does not matter if it is Lisbon or Moscow, the world is full of inspiration and design. As the saying goes: different strokes for different folks. Each of us may have different design preferences, but the following ideas will surely inspire each one of you.
Of course, the services, cleanliness and location of the hotel are the most important aspects influencing our decision, but the eye-catching interior is no less important for many guests. Although the article focuses on the most stylish and quite expensive hotels, their design might inspire you. Breathe in new style and let yourself get inspired by stylish furniture and accessories. Too expensive, you say? Be sure to check out Internet for cheaper solutions and liven up the interior of your hotel.
In this article, we will show you some most interesting interior design styles. We know that what one person finds interesting, the other may find boring, plain or even distasteful. Some prefer beautiful view, others antique pieces of furniture from the colonial period and some the absolute extravagance offered by a hotel under the sea. We have something for everyone.
Cotton House Hotel, Barcelona, Spain
At Cotton House you will find stairs, floors and mirrors inspired by the 1950s. The hotel has a vintage atmosphere and some rooms are even decorated in an antique style. Notice how earthy colors complement each other. Tones of white, beige and brown will be stylish forever. Earthly and natural tones are pleasing to the human eye and have a calming effect. A classic is simply a classic.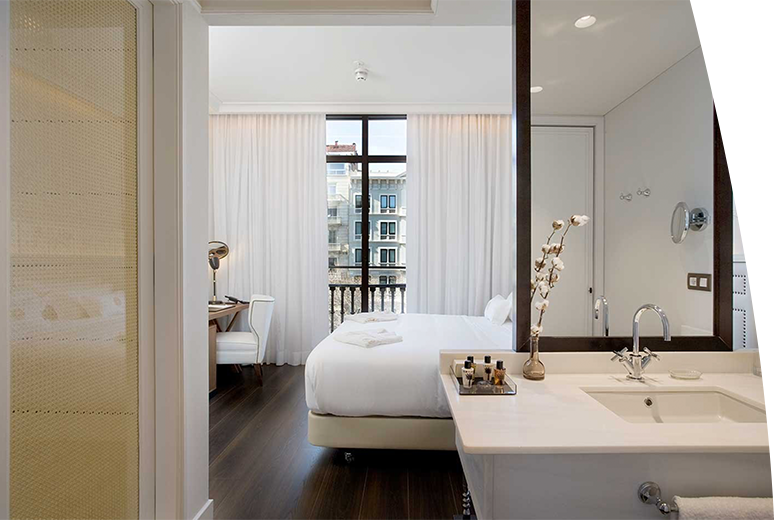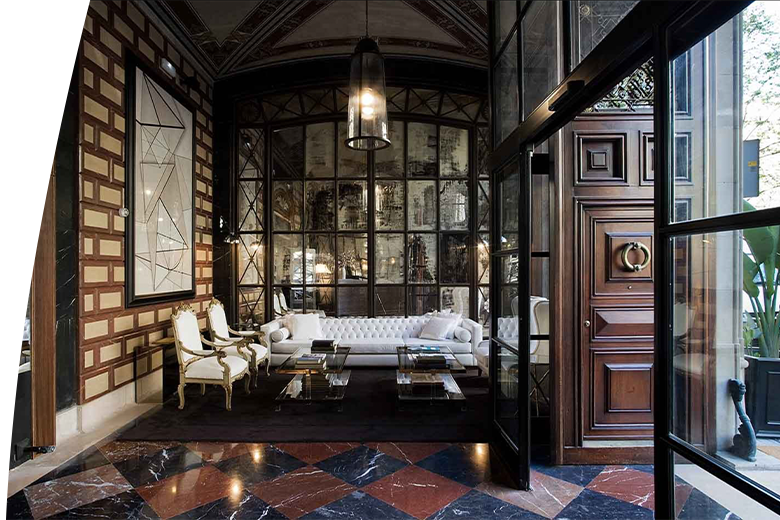 *source: https://www.hotelcottonhouse.com/en/photos
The Shangri-la Suite at The Shangri-la Bosphorus, Istanbul, Turkey
It is no news that Istanbul is a dynamically growing destination offering tourists luxury services. In addition to the usually affordable hotels, we can also find truly rare gems. For example, you pay $ 26,385 for this room per night. But its interior! The room will please even the most demanding customers. Magnificent chandeliers, a Chesterfield-style sofa and marble floors will instantly give you last century vibes. Feeling inspired yet?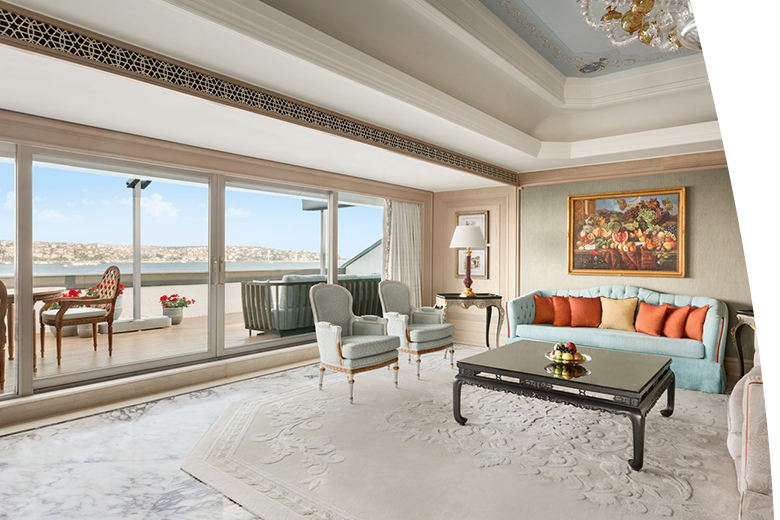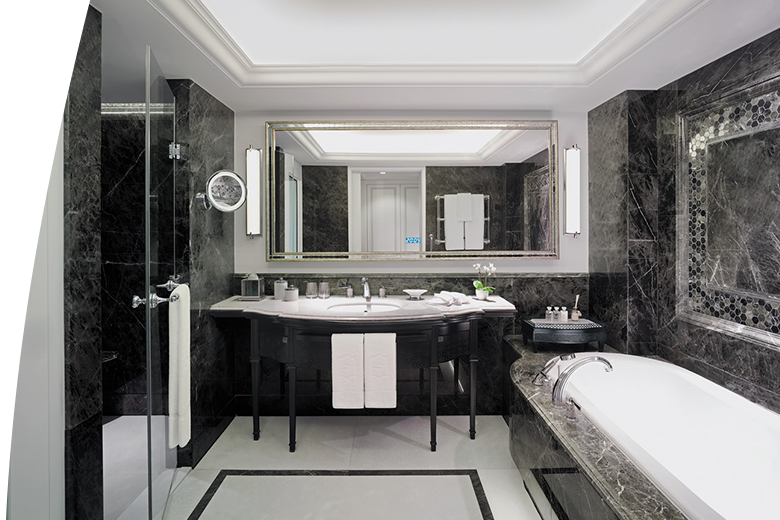 *source: http://www.shangri-la.com/istanbul/shangrila/photos-videos/
Cabanes Als Arbres, Spain
Let's go to a completely different hotel room, shall we? If you are a nature lover, this design and accessories will definitely suit your taste. Vintage bed with a high mattress, a canopy and a tree trunk directly in the room? All these details complete the amazing atmosphere of the room built directly in the treetops. The wood around looks cozy and you can also notice details such as branches on the table or pillows. Thanks to such little things, you can conjure up a cozy feeling in every bedroom.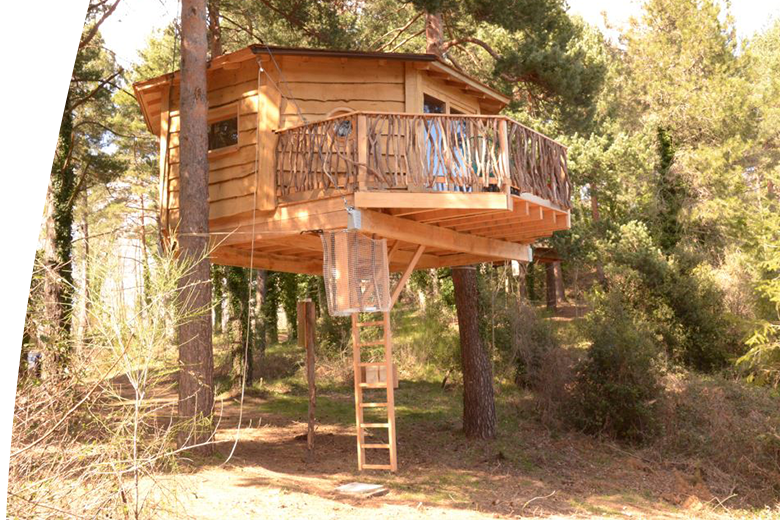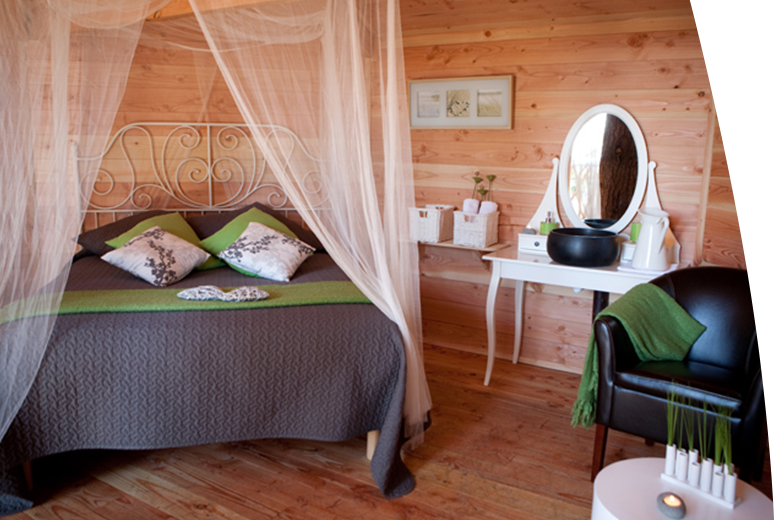 *source: http://www.cabanesalsarbres.com/en/photos_videos
The Apartment, Hotel Connaught, London
IAn interior that bets on the royal color. Purple and shades of deep blue are considered very elegant, festive and noble. Combined with marble, long curtains and solid furniture, they add absolute elegance to the space while maintaining airy and cozy atmosphere. Can you imagine your premises in this style?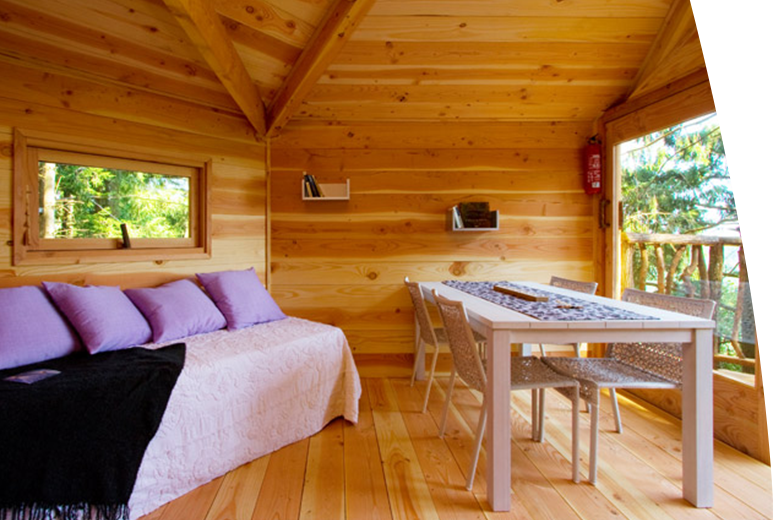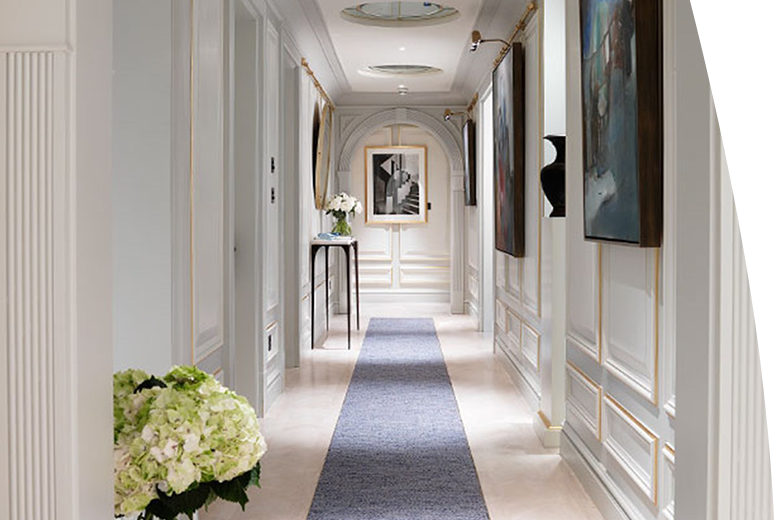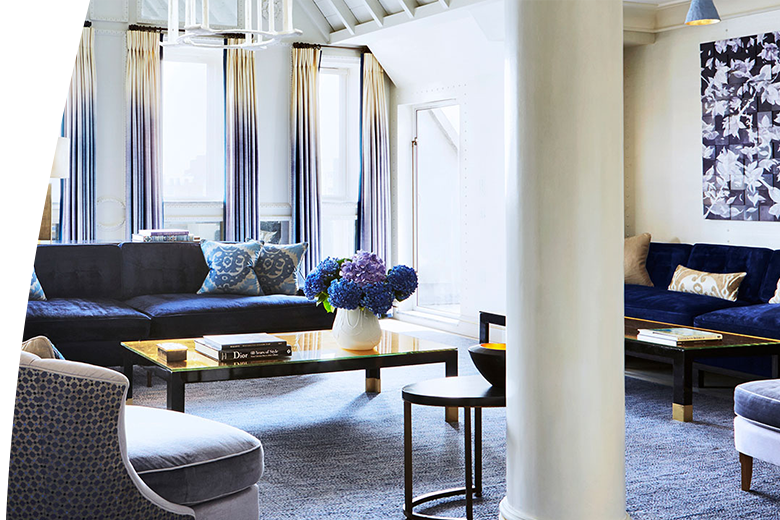 *source: https://www.the-connaught.co.uk/rooms-and-suites/the-apartment/
The Royal Villa, Grand Resort Lagonissi, Anthes, Greece
Pleasant beige interior complemented by metal elements (silver in this case). The magnificent chandeliers and lamps bring along a feeling of luxury. Although trends change over the years, earthy colors will never go out of style. If you long for a change, just change the accessories. Timeless classic will definitely please even the most demanding eyes.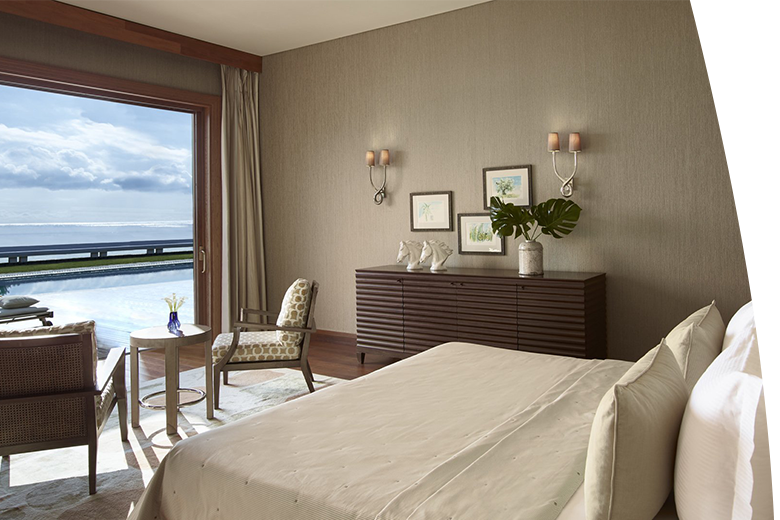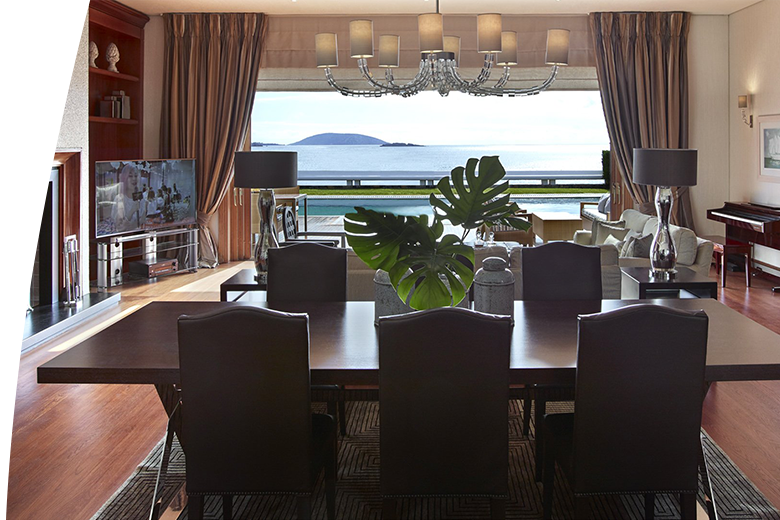 *source: https://www.lagonissiresort.gr/photo-gallery/
Deluxe Avant-Garde One Bedroom Suite, Belmond Grand Hotel, St. Petersburg, Russia
Each apartment in this hotel is named after a famous artist. For example, room 155 is called The Rodchenko suite. The room is decorated in geometric shapes that stand out against a white background, much like Rodchenko's works. Note the simple light colors in combination with green and brown wood. All you need are 3 cleverly chosen colors and the interior will become pleasantly cozy. Get inspired and name the rooms in your hotel as well.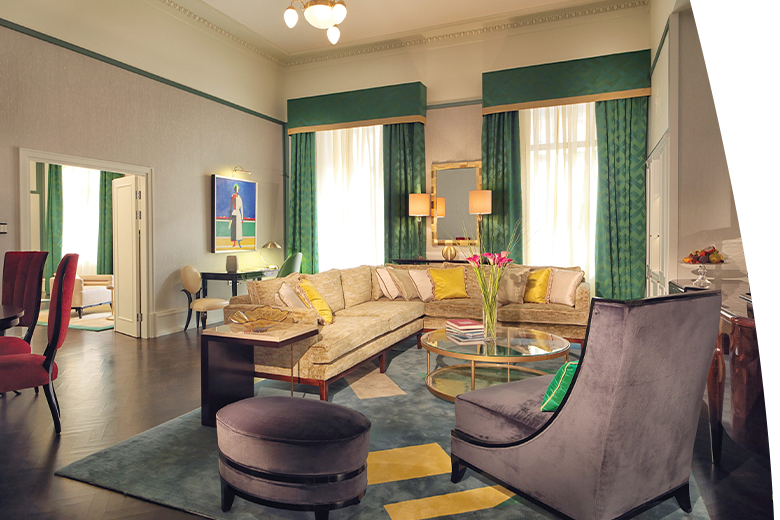 *source: https://www.belmond.com/hotels/europe/russia/st-petersburg/belmond-grand-hotel-europe/avant-garde-suites
Park Hyatt, Vienna, Austria
Magnificent hotel near our borders. The interior of the rooms employs wallpapers while golden details are complemented by beige shades. To avoid the feeling of heaviness, it is important to incorporate pure white, for example in bed linen. Do you like dominant gold accessories?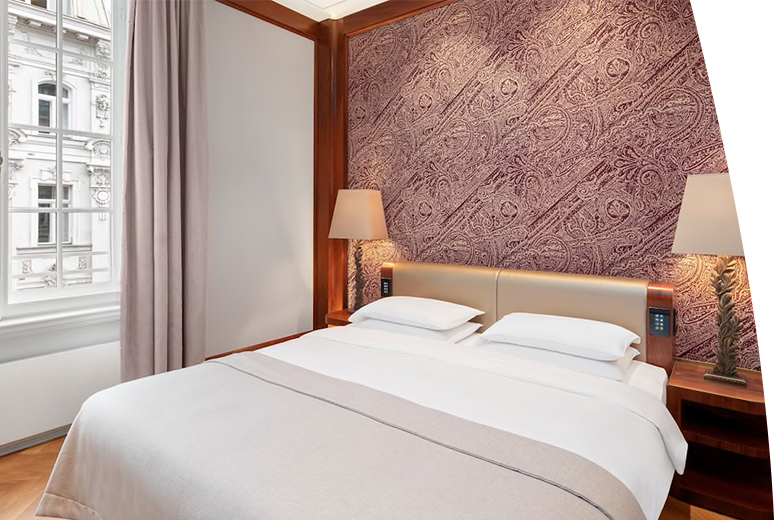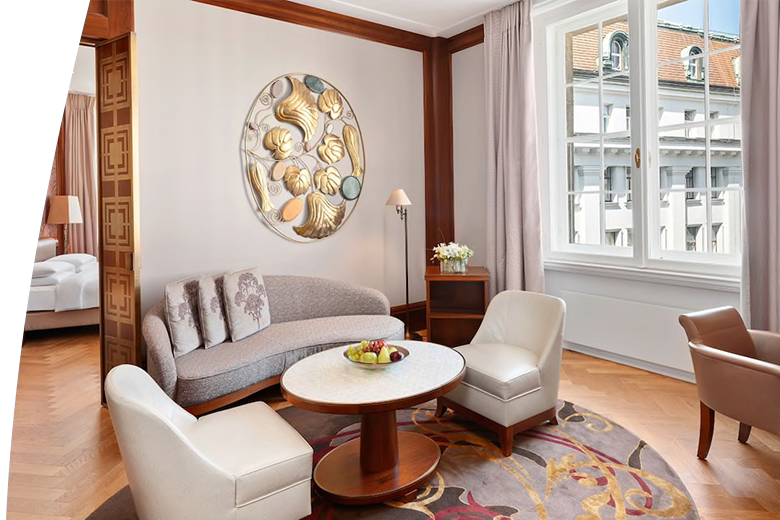 *source: https://www.hyatt.com/en-US/hotel/austria/park-hyatt-vienna/vieph/rooms