Have you ever heard of solar restaurants or bakeries?
Nowadays, when interest in ecological sustainability is constantly increasing, many restaurants, hotels or bakeries around the world have decided to make use of solar energy. Solar energy brings along a number of environmental, economic and social benefits not only to them, but also to our planet.
Why, how and what is it used for?
Placing solar panels on the roofs of buildings is probably the most common way of their installation. These panels generate electric energy which is then used to operate kitchen appliances, lighting and air conditioning. Some facilities even use solar collectors to heat water used for washing dishes and hygiene purposes. A restaurant in Omaha has earned the status of one of the greenest restaurants in the world also thanks to its solar-powered sinks.
There are various reasons for using solar energy. The primary goal is to reduce greenhouse gas emissions that contribute to climate change. Solar energy is clean, renewable and produces no harmful emissions. The second reason is economic savings, as the operating costs of electricity can be significantly reduced. And last but not least, the use of solar energy can improve the image of an enterprise and attract customers who are looking for businesses which are environmentally responsible.
Where are solar energy powered restaurants,hotels and bakeries located?
Such enterprises exist all over the world, from California, the United States, where the famous restaurant "The French Laundry" is located, to Europe, where, for example, the first ecological hotel "Hotel Ucliva" operates in Switzerland. In Asia, solar energy is also becoming popular in tourist areas such as Bali and Thailand, where there are hotels and restaurants with an environmental focus. Also in Latin America you can find facilities like the "Eco Solar Hotel" in Costa Rica that use solar energy. Pierre-Andre Aubert, the "solar" chef, set up the solar restaurant Le Présage in Marseilles, France just a few years ago. Instead of conventional industrial ovens, this experimental restaurant uses the power of the sun for cooking. Le Présage thus became Europe's first solar-powered restaurant and continues to explore further ways to reduce its carbon footprint.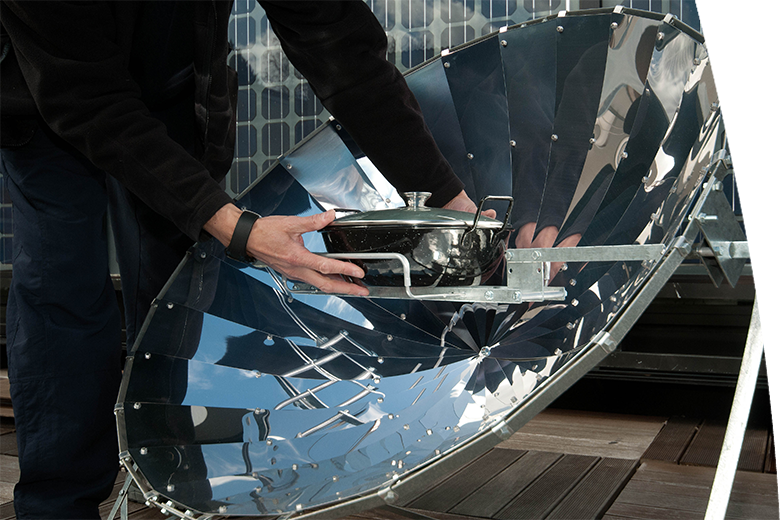 In one Armenian restaurant, certain dishes are directly prepared in the sun in a yard using sort of "satellites" of different diameters, which are covered with hundreds of small rectangular mirrors. Or, when customers order one of the "sun dishes", chefs use a pan made of glass (to allow sunlight to penetrate it) and place walnuts on the bottom of the pan and meat or vegetables on top. They adjust the angle so that the pan is directed at the sun and wait. In a few minutes, the food is ready. On mild sunny days, it is ready in 20 minutes or less. During the hot Armenian summer, temperature in the pan can reach up to 700°C, so the preparation time of the food varies from three to less than seven minutes. On cloudy days, of course, they do not implement this method of food preparation.
And who would have thought that even McDonald's, the famous fast food chain, would follow these "eco" trends? This foodservice chain introduced the ecological concept of the restaurant in Florida, where the entire roof is made up of solar panels, which not only supply electricity, but also provide shade for the interior. Appliances in the restaurant are also more efficient, so they use less energy. The restaurant has got a green wall with its typical two golden arches. When visitors start pedaling the exercise bikes producing electricity, these arches light up.
Is solar energy effective and can it be used in Slovakia?
The efficiency of using solar energy depends on geographical location, number of sunshine hours and quality of solar panels. In general, solar panels can effectively cover some or all of the electricity consumption of a business or enterprise, reducing their dependence on conventional energy sources.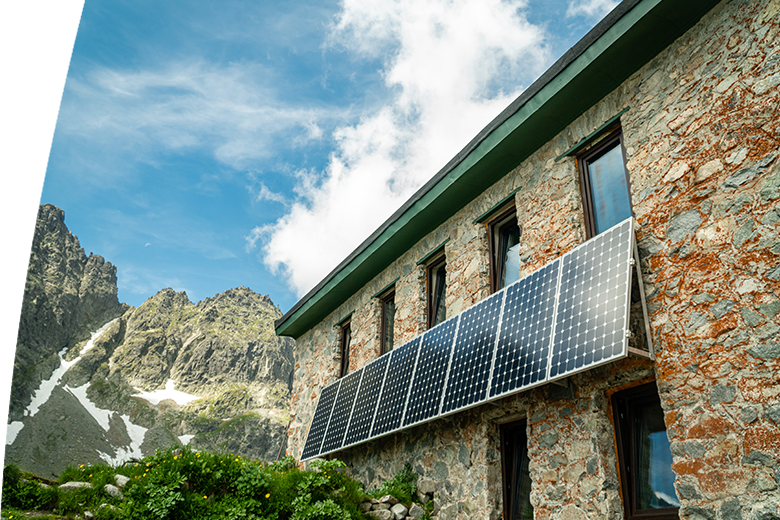 Solar energy can also be used in Slovakia, in areas where there are enough hours of sunshine, thus especially in the southern parts of the country. There are already examples of successful projects focusing on renewable sources involving solar energy. Although the number of solar-powered buildings in Slovakia is still low, this trend could have a growing tendency in the future.
With growing demand for sustainable solutions, it can be expected that solar energy will continue to gain popularity in this industry in Slovakia and around the world.
Do not forget to subscribe to our newsletter so that more tips and advice from various areas of the business environment can reach you.