What Does a Hotel with Feng Shui Elements Look Like?
The flow of energies affects our psychological well-being, our health and our productivity. Feng shui strongly influences the amount of time we spend in a place, whether it's five minutes or an hour. It also influences our concentration and efficiency at work. But it is also gaining popularity in the hotel industry itself.
What is Feng Shui?
You have probably heard of it. These Chinese words encapsulate the power of two natural elements - water and wind. The goal of this teaching of the harmony of space is to activate the positive life ener
gy "chi" and suppress the negative energy "sha". This is not a new phenomenon; this art is more than four thousand years old. It mainly focuses on the placement of furniture, mirrors, doors, plants and other objects in a space, the colour scheme and the materials used so that the flow of good 'chi' energy is not blocked.

Feng Shui Will Also Be Appreciated by Your Guests
Feng shui hotels around the world are regularly booked out, especially by top managers, businessmen and stressed workers. Parents also tend to be a large group of visitors to these hotels. You don't have to have a hotel located somewhere remote in the mountains, it's more about the harmony of the overall space, how the hotel can be in symbiosis with nature. That's why you should think about the aforementioned elements and translate them into cosy rooms with furniture made of natural materials. Fireplaces or fountains with pleasantly flowing water, for example in the hotel lobby, are also a great addition. Aromatherapy, so-called Zen massages, scrubs and natural wraps should definitely be included in your menu of services.
How About Furniture?
Square type furniture is considered inappropriate, rounded shapes and lines or at least chamfered and octagonal corners of furniture are preferred. In feng shui it is recommended to use a lot of mirrored surfaces and exclusively warm materials (wood, brick, etc.). Conversely, stainless steel or chrome elements are deliberately suppressed. Accessories such as candles also play an important role.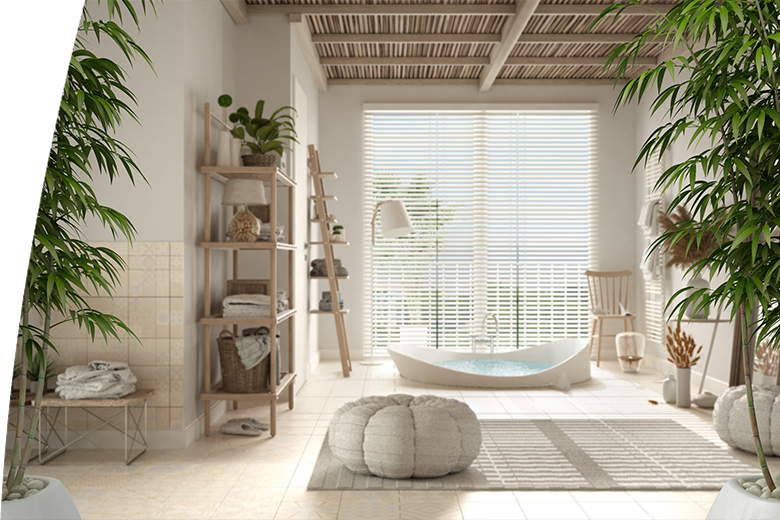 A Couple of Practical Tips
In the interior, it is considered most important that nothing is placed or hung in the geometric centre of the room (the centre is marked as the energy centre). To avoid your guests waking up too tired in the morning, do not place the bed between the windows and the door, and likewise not just below the windows. The bed should be as far away from the door as possible so that guests can see it. This will give them security and a feeling of safety. Bedding should ideally be cotton, linen and silk. Synthetics should be avoided by far. Combining a ceiling lamp with spot lighting and other types of lighting fixtures is another taboo in a feng shui bedroom. Too many different light fixtures creates excess energy. Upon waking, the gaze should be fixed on an inspiring point - an interesting painting, sculpture, macramé made of natural material, etc. Mirrors do not belong in the bedroom either. However, if you want to put them in the sleeping room, place them so that they do not reflect the bed. According to Chinese philosophy, mirrors prevent you from getting rid of old emotions during sleep.
Many architects, interior designers and artists who are interested in a harmonious and tailor-made life attend courses to learn more about this Chinese philosophy. In Hong Kong, for example, almost every builder traditionally hires a consultant - an expert in feng shui. For example, buildings such as the famous Shanghai Bank by architect Foster in Hong Kong or the modern extension of the Louvre in Paris were built according to feng shui principles.
Don't forget to subscribe to our newsletter to get more tips and advice from different areas of the business environment.